Social Contribution Activities
"Let's do what we can little by little."
Under the above slogan we have deepened exchange with residents of the South Pacific through our work and classical music in Hakuba, Nagano.
We hope to continue these exchanges as a positive way to promote a better society.

Transportation of Donations and Emergency Relief Goods
Assisting charitable organizations to transport donations (sporting goods) to the children in the islands of Pacific Ocean.
And cooperating with volunteers to transport emergency relief goods in case of natural calamity.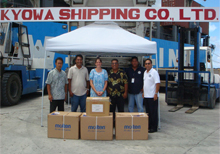 Hakuba International Music Festival